An emoji render for React that supports Unicode emoji characters, emoticons (such as 🙂 😡 :/) and slack-style emoji names (such as :smile:).
More features:
Add custom styles when text contains only emoji (to make it bigger, of course)
Installation:
# Yarn
$ yarn add react-emoji-render

# NPM
$ npm install react-emoji-render --save
Usage:
Import the component.
import Emoji from 'react-emoji-render';
The basic usage.
<Emoji text="This ❤️ sentence includes :+1: a variety of emoji types :)" />
Options.
function MyEmojiRenderer({children, ...rest}) {
  const options = {
    baseUrl: 'emoji url',
    ext: 'svg', // extension
    size: ''
  };

  return (
    <Emoji options={options} {...rest} />
  );
}
Preview: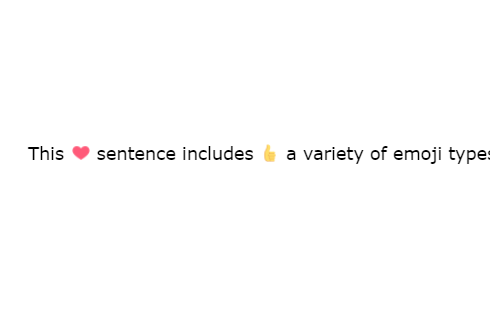 Download Details:
Author: tommoor
Live Demo: View The Demo
Download Link: Download The Source Code
Official Website: https://github.com/tommoor/react-emoji-render
License: MIT