Dropdown is one of the most classic UI elements in web design.
Its history can be traced back to the last century and has been popular today.
Even in today's mobile-first web development, dropdown is still an indispensable UI element.
In today's post, you will find the 10 best Dropdown components to help you create user-friendly and mobile-compatible dropdown lists or dropdown menus on modern React and React Native applications. Have fun.
Table Of Contents:
Best React Dropdown Components:
Simple Dropdown component for React that helps you style the default HTML select element with support for grouped options.
---
Select Search helps your create a React powered selectbox with filter using fuse.js.
---
A React multiselection autocomplete dropdown component for Material-UI.
---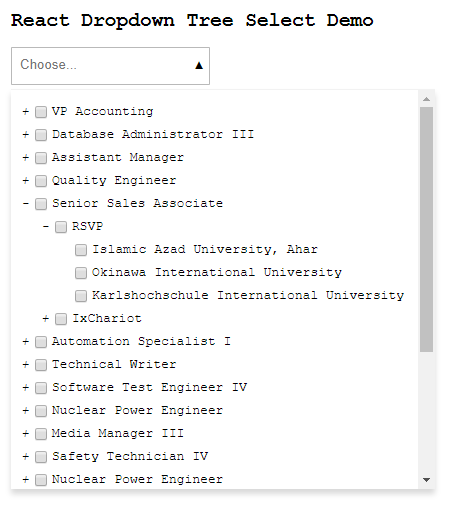 A lightweight and fast control to render a select component that can display hierarchical tree data. In addition, the control shows the selection in pills and allows user to search the options for quick filtering and selection.
---
Customisable dropdown select/multi-select component for react with custom render callback props to override inner components.
---
Best React Native Dropdown Components:
A react-native dropdown/picker/selector component for both Android & iOS.
---
A Picker component for React Native which emulates the native <select> interfaces for iOS and Android.
---
A simple DropDown menu for React Native App!
---
A menu component for Android and iOS that provides a dropdown similar to Android's Spinner, but does not retain a persistent selection. The API is very flexible so you are free to extend the styling and behaviour.
---
React Native Material dropdown with consistent behavior on iOS and Android.
---
More Resources:
There're lots of web & mobile dropdown libraries out there and you can find more React & React Native resources about dropdown on our Dropdown category.
You Might Be Interested In: