Lazylog is a React component that loads and views remote text in the browser lazily and efficiently.
Features:
Efficient scrolling performance thanks to react-virtualized.
Able to load large files upwards of 100MB without crashing the browser.
Parses, colorizes, and styles ANSI escapes within content.
Supports remote text files as well as chunked/streamed responses.
Line highlighting.
Customizable styling.
Works in latest browser versions, including iOS Safari and Android Chrome.
Installation:
# Yarn
$ yarn add react-lazylog

# NPM
$ npm install react-lazylog --save
Usage:
import React from 'react';
import { render } from 'react-dom';
import {
  LazyLog,
  LazyStream,
  LazyList,
  ScrollFollow,
  Line,
  LineContent,
  LineNumber,
  LinePart,
  Loading,
  Spinner
} from 'react-lazylog';

render((
  <LazyLog url="http://example.com" />
), document.getElementById('root'));
Preview: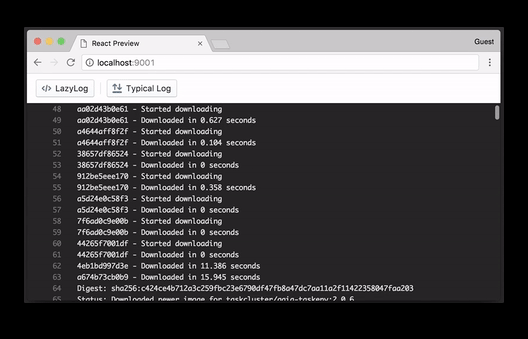 Download Details:
Author: mozilla-rpweb
Live Demo: View The Demo
Download Link: Download The Source Code
Official Website: https://github.com/mozilla-rpweb/react-lazylog
License: MIT
You Might Be Interested In: